EIN GEDI BOTANICAL GARDEN (Part 2)
(Part 1)
Marina Rybka, Israel
I have arrived to Ein-Gedi botanical garden, at first, out of curiosity - about it the hearings as about a garden almost of world-wide value go, and secondly - I was task to make snapshots of aromatic plants of the Burseraceae fam: Commifora and Bossvelia, from which one mine famous 'ladan' and 'mirra'. From the Internet I have found out, that in Israel these plants can be seen in two places: in Ein-Gedi botanical garden and in Institute of ecological analysiss in Ketura, far in the south, in desert Arav.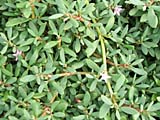 Photo 1. Sesuvium portulacastrum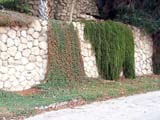 Photo 2. Grevillea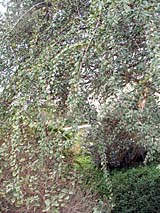 Photo 3.
Looks like Bauhinia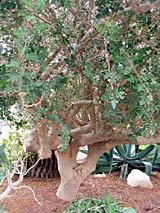 Photo 4. Bursera
As the road in Ein-Gedi borrows about two hours and is rather tiresome, and back on this streamer to come back it is desirable before dark, we have decided to not be limited one day of survey in a hurry besides also in hottest hours, and to stay the night in hotel of a garden.
Interesting finds begin directly on a parking. Such rather ordinary-looking succulent plant, similar on dwarfish portulaca - Sesuvium portulacastrum, completely remarkable drought-resistant and tramp-resistant soil-cover plant (Photo 1). Also it is able, it appears to conjure. For example, to represent a green falls. It grows on the top terrace, slips on a wall and continues "to spread" already a floor below. Near to it one more effective "falls" - hang-downing Grevillea. But it only is able to hang down downwards... (Photo 2).
Having come off from examining of Sesuvium, I have on the spot engaged in studying of the nearest tree near which we were parked. The tree with the fine doubled leaflets in the hoof-form very much reminded Bauhinia, but at leaf grinding in fingers oiliness was felt (photo 3). The tree all was covered microscopic white buds, but not any revealed flower! Fruits - typical for Bauhinia pods - in set rolled around. So now at me the future grow up bonsai from «artificial Bauhinia» and wait, when I shall find it the present name...
While we waited for registration and keys from a small house, I have had time to find one more unknown to a science a tree of which has immediately suspected required Burseraceae plant (photo 4). Leves have a characteristic camphor smell, appearance of a trunk quite approaches under the national name of several Bursera species - «an elephant tree». (In the second arrival, October, I have found a Individual seed on this tree and have let germinate it! (Photo 5, 6).
At the entrance - the big flowerpot with Pedilanthus. This representative of diverse family Euforbiaceae sometimes confuse with variegated Evonimus. But it is enough to recollect its feature for which it has received the English name "plant - zigzag" and to pay attention to a correct zigzag stalk that it is good to remember it and with anything to not mix (photo 7).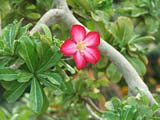 Photo 10.Adenium in flower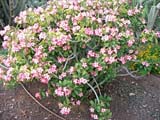 Photo 11.Adenium in flower
Amaze imagination huge Adeniums. The present "bottle" spacemans among are not present, and a special color variety too. But it is the present wild and mighty, branchy and sprawling bushes, looks like neighbours baobabs (photo 8-11 at left). Adenium flowering is not adhered to a season, I saw blossoming bushes both in April, and in the following arrival - in October. But to collect seeds it happens very difficultly - the mature pod bursts also cheerful bright - red down instantly scatters downwind, carrying away with itself seeds... (photo 12).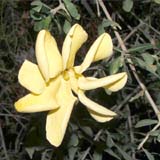 Photo 13.Gardenia by the night
In the evening I have counted, that with a sunset becomes more cool, and have left to take a walk in darkness and to shoot with flash. Really, many plants on pictures have turned out completely fantastically, for example - the same yellow Gardenia which in the afternoon in blinding solar beams simply it is not visible, it seems dried leaf (photo 13). But hopes for a cool were not justified. Thus damp hot air was so sated with curative mineral salts and exotic flower aromas, that I felt like as on medical inhalation: a smell of Gardenia, Eucaliptus and Calistemons. The child of a smelly megacity, I not for long could sustain cleanest air without car-smells and have run away under the conditioner. But bird's voices on unit of volume I did not hear such concentration for a long time.. At that it was not deafening twittering and hubbub of the bird's market, but melodious singing of the present experts.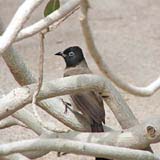 Photo 14. Pycnonotus xanthopygos
I have found out one of singers on a voice, it is my old familiar. These birds for a long time have drawn my attention: here, in Israel, they live in cities near to the people, as usual sparrows. Only keep not flights, and pairs. Same inconsiderate, curious, ready to get on a balcony and to make a row: to make a hole in fruit, to pull out sprouts from boxes, to tear off leaves from flowers. At me the couple of such hooligans lives on a tree directly under a window. Once one of them has managed to find a small opening in a kapron grid by which my balcony from pigeons is completely tightened. The bird of its size (hardly small a usual ouzel) literally should squeeze on all fours, that there go. And to climb it trying unique berry of Sizigium from mine tree. Berry it only has taken a bite, and itself appeared in a captivity on the balcony closed by a grid. It was necessary to rescue. This bird can forgive all hooligan manners for its fine singing very much reminding a nightingale. When I, having armed with the directory of local birds, began to define a name of this singer, appeared, that it really a nightingale! Pycnonotus xanthopygos - yellow-back nightingale. Though, actually, faster, not yellow-back, but yellow-priest - yellow feathers at him under a tail (photo 14). In Ein-Gedi they feast in thrickets of a ficus sacred (Ficus religiosa) fruits like a fig, but very fine, in size with a cherry (photo 15).
In all motley company of botanical overseas newcomers in Ein-Gedi independently some natives, not less rare and surprising stand. One of them - Moringa peregrina, a tree, the most gentle on a kind and persistently surviving in the most severe conditions (photo 16). This tree of the heated stony slopes on coasts of the drying up rivulets filled with water only in a season of rains. Long "follow" branches seem naked, but leaves present on them, but they are tiny. It is interesting, that young plants have leafs with normal size, but leaves with age everyone become shallow, and leaf-steams everyone are extended, do not turn yet in naked plait. Because of it the crone of a tree seems openwork, and huge "bouquets" of white-pink colors - groundless (photo 17). And unexpectedly massive huge green pods with seeds look. These pods are edible, and from seeds aromatic oils (photo 18) are extracted.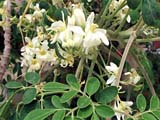 Photo 19.
Moringa oleifera
Near to this Moringa grows its overseas relative - Moringa oleifera (photo 19). At it both flowers and leaves are larger - it is visible, on its native land (India) it should not conduct such fierce struggle for economy of a moisture. At it too edible pods (the English name - a horse-radish treelike), various parts of a plant are used in medicine, from seeds extract oil. But personally seeds were interest for me as object for grow up, and in this role have won my huge sympathy and love forever. Large, in size with a wood nut, a sunflower seed has sprouted almost in some days, without any soakings and stratification on which I elementary do not have patience. Thus cotyledons of a sprout have remained under the ground as any strange turned letter U, and from the top point of this letter went a long thin shout, on the move becoming covered by a gentle silvery bark. As at me the pot with this "fishing tackle" stood on the top shelf, the formation at the bottom part of a thickening similar to a garden radish was a full surprise for me. Moringa peregrinii has carried less - I have managed it to dry. Now at me is only small "garden radish" in size with a phalanx of a little finger. I hope for wonderful revival of a plant from this survived part.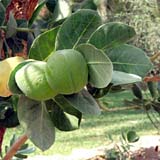 Photo 20.
Calotropis procera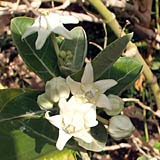 Photo 21.
Calotropis gigantea
One more local native - Calotropis procera - «Sodom apples», from Asclepiadaceae family. At it typical for all family graceful "porcelain" цветки, large round leaves with a glaucescent wax raid and the surprising fruits similar to green oranges (photo 20). There is a legend how this plant has received its name. The naive travellers not knowing botany, trying to satisfy thirst with juice of an appetizing large fruit, appeared are severely disappointed: inside instead of reviver there was a black dust. A fruit have found damned. Actually, Calotropis anybody to deceive did not gather, and fruits of it inside contain that is necessary to Asclepiadaceae family - the seeds which have been wrapped up by gentle silky down. And in an external green environment - poisonous lacteal juice. Near to it grows another Calotropis - gigantea, with very large white colors, the native of India (photo 21).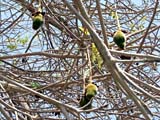 Photo 24. Fruits of Adansonia digitata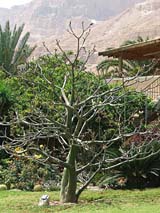 Photo 25. Pseudobombax elliptica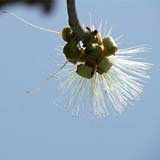 Photo 26. Flowers of Pseudobombax elliptica
That has resulted me in the uttermost amazement so it is the unusual sizes of habitual and well familiar plants. Huge Monstera with leaves of completely fantastic sizes and with fruits - and it not in damp tropical jungle, and actually in desert! (photo 22). And around of usual Epipremnum aureum which hangs at each office and refers to simply "liane", whether I hardly crept and unless did not try to unwind it from a tree, on which it grown. Could not believe the eyes in any way, that that grows below, and that above - the same plant! Below - ordinary Epipremnum, and above - huge motley divided leaves in size with average room Monstera (photo 23).
Pride of the botanical garden - family of baobabs. Flowering of Adansonia digitata I have not found, saw already formed fruits - amusing, hanging on long cords «muzzles of crocodiles» (photo 24). I have found a pair of this on the ground, most likely, they were unripe. They as though are made of the integral piece of wood covered outside with a greenish velvet. After toilful opening with the help of improvised means (I has not guessed to take in trip a saw and an axe) wooden "crocodiles" have turned in heap of chips, but seeds not found out. Other baobab - Pseudobombax elliptica. It does not have period of mass flowering, so a song about «Blossoming Baobabs - what miracle!», most likely, so never also will not appear (photo 25). On naked thick branches single snow-white flowers from afar seem sat down on branches strange fluffy birdies, and close - a strange jewel from crystal strings in a frame of thick wooden shavings (photo 26). One more most beautiful representative of this family - Bombax seiba - blossoms large scarlet or orange "lilies". It is very pity, that I have not found its flowering in a botanical garden, but this tree in Israel can be met and in other cities. I have made these pictures in Tel Aviv in February (photo 27, 28).
One more giant - already from Euphorbia family (photo 29-31). Conditionally for myself I identified it as Euphorbia neriifolia - on pictures in internet I have found only young shouts described as tetrahedral. At an immense trunk which I saw before myself, in general any sides were not, and on the top it was simple to me to not jump to young runaways.
Now, when once again I look pictures, very much it would be desirable to get in Ein-Gedi again. Now I hope to visit there in March.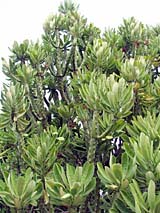 Photo 30.Euphorbia neriifolia?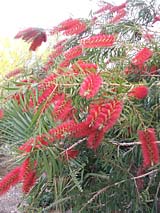 Photo 32. Callistemon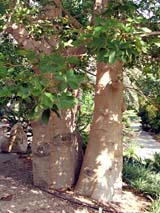 Photo 35. An old baobab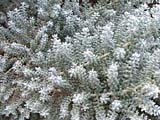 Photo 33.Maireana sedifolia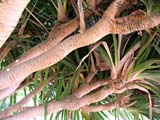 Photo 34. Pandanus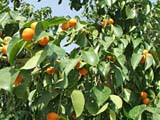 Photo 36. Ficus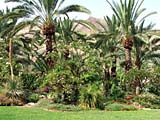 Photo 37. View of the Garden